Associate Attorney
Elena has experience litigating cases from inception to resolution through settlement, mediation or trial. Her current focus includes cases involving high asset divorce, child and spousal support, high conflict child custody, move away requests, domestic violence restraining orders, paternity actions, mediation and post-judgment modifications.
Prior to joining Fair Cadora, Elena worked in the family law and civil litigation arena having practiced in state and federal courts throughout the Los Angeles, San Diego, Imperial and San Francisco counties.
Elena is passionate about family law and is committed to making a meaningful difference in her clients' lives through her work. Her diverse legal background and analytical skills enable her to think outside the box and offer simple and elegant solutions for complex issues. Elena has a successful track record in litigating and resolving high stakes matters in her clients' favor. She is a thorough, compassionate and zealous advocate for her clients.
In her free time, Elena volunteers as a pro-bono attorney for San Diego Volunteer Lawyer Program on domestic violence and guardianship cases, as well as a pro-bono interpreter and translator for Casa Cornelia Law Center, victims of crime program, and Catholic Charities. She contributed over 150 hours in legal work as a pro-bono attorney helping clients who could not afford to pay for legal representation. Her contribution was recognized by the Wiley W. Manuel Award for Pro Bono Legal Services.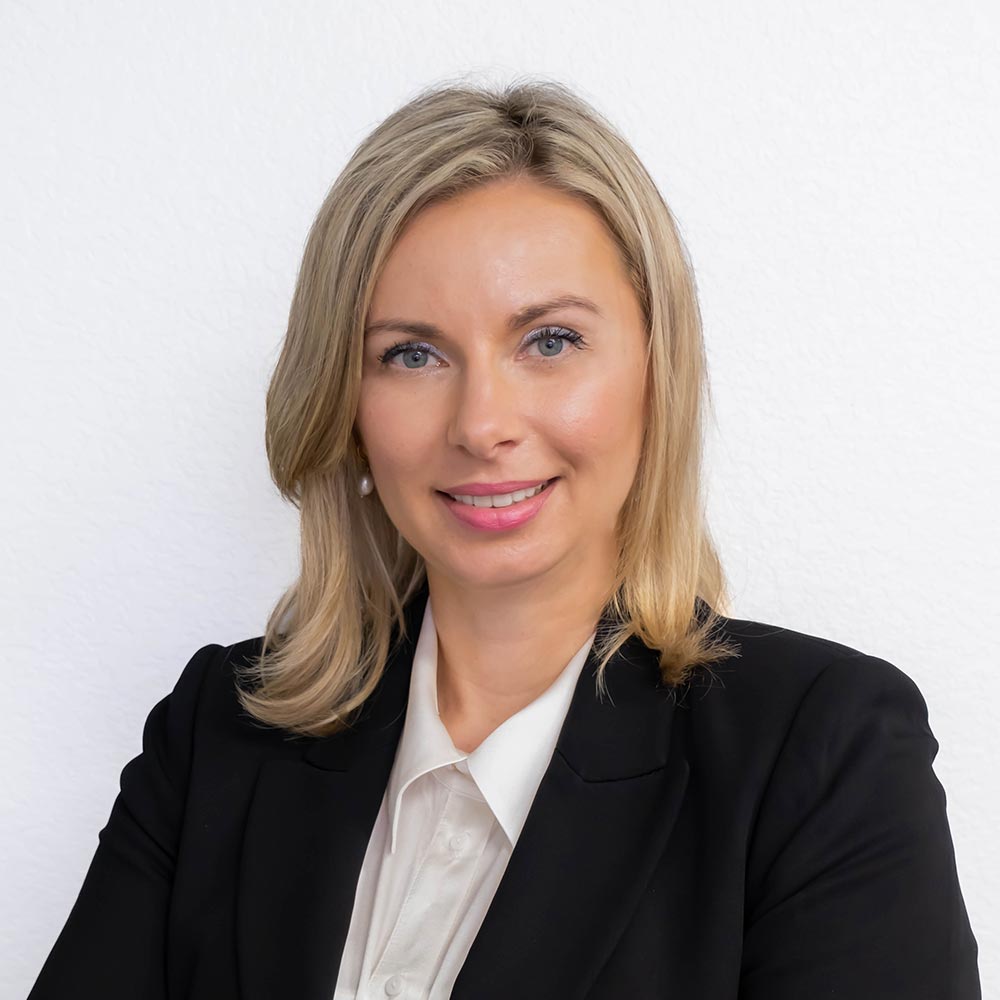 How I Use My Unique Gifts to Help Our Clients
My clients describe me as honest, effective, compassionate, knowledgeable and thorough. I take pride in helping them navigate through the most difficult times of their life and to protect them when they are most vulnerable.
Why I Choose to Work in Family Law
I enjoyed working in corporate law before, it did not bring me the sense of purpose. In my first family law case, I helped a grandparent obtain guardianship of her grandson so he could grow up with his family and get the services he needed. My work made a huge difference in my clients' lives, and I felt that. Ever since, I feel connected to my clients, and it brings me satisfaction when I help them fight for what's theirs.
What I Would Like You to Know About Me
I have two children, a Bernie doodle, and two cats. I paint. My goal is to hold an art exhibition by the year 2025. I speak two languages, Russian and English.