San Diego Divorce Attorneys
Divorce Without Damaging Your Family or Finances
Divorce can be a challenging and emotionally charged experience for everyone involved. One of the primary concerns that many couples have when considering a divorce is how it will impact their family and finances. It's essential to remember that a divorce doesn't have to mean the end of your family or financial stability. With careful planning, communication, and cooperation, it's possible to separate amicably and minimize the damage to your family and finances. By prioritizing the well-being of your family and working together to find a mutually agreeable solution, you can come out of the divorce process with you family relationships intact and your financial future secured.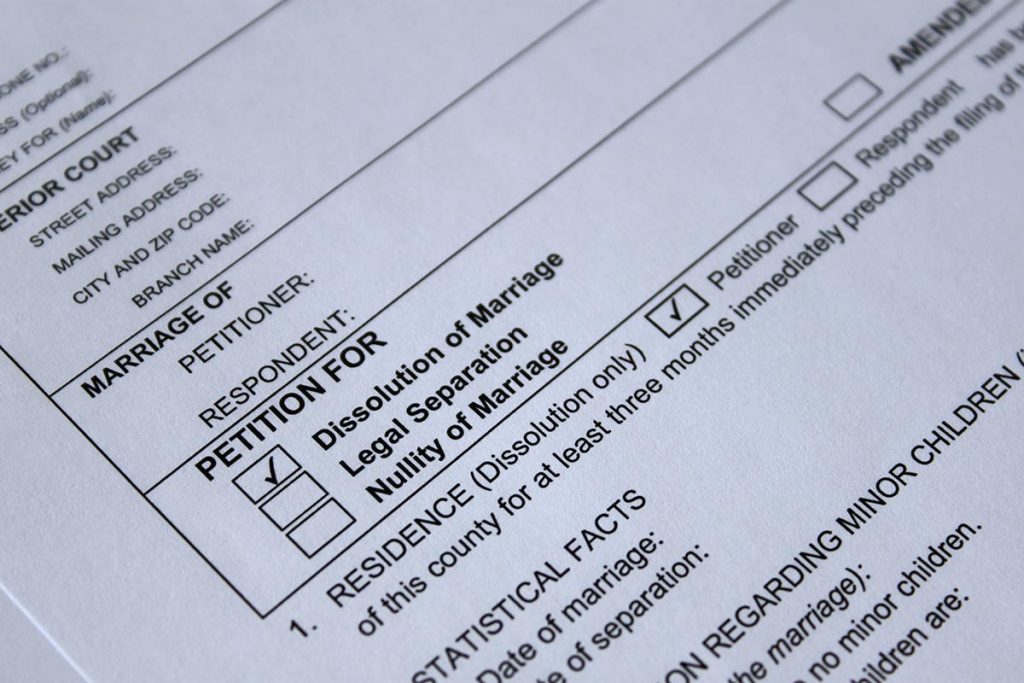 Request Consultation
Put your case in our expert hands and get started now.
"*" indicates required fields
Grounds for Divorce in California
If you are currently going through a divorce or have been served with divorce papers, it is important to have a skilled legal team on your side that is experienced in the areas of divorce and family law in San Diego to protect your rights and ensure that you are treated fairly throughout the process. At Fair Cadora we are committed to helping our clients get through their divorce and get back to enjoying their lives. If you're considering a divorce in California, here's what you need to know:
At least one spouse must have lived in California for at least six months and in the county where the divorce is filed for at least three months prior to filing.
California is a "no-fault" divorce state, meaning that neither party needs to prove that the other is responsible for the breakdown of the marriage. The only required ground for divorce is "irreconcilable differences," which means that the marriage cannot be saved.
One spouse must file a petition for dissolution of marriage with the court and serve the other spouse with a copy of the petition and a summons.
There is a mandatory six-month waiting period from the time the petition is served to the finalization of the divorce. In some cases, this waiting period can be waived by the court.
California is a community property state, which means that all property acquired during the marriage is generally considered community property and will be divided equally between the spouses.
If you have children, the court will determine custody and visitation arrangements based on the best interests of the child. Child support will also be ordered based on a statewide guideline calculation.
Spousal support, also known as alimony, may be ordered by the court based on factors such as the length of the marriage, the earning capacity of each spouse, and the standard of living established during the marriage.
Finding the Right San Diego Divorce Attorney
The attorney you choose to represent you in your divorce can affect the rest of your life, so it's important to choose wisely. When searching for a divorce attorney to represent you it is important to find an attorney that specializes in divorce and family law and is familiar with the judges and courts in your county. Additionally, your attorney should be someone you can trust and feel comfortable with. If you wouldn't feel comfortable allowing your attorney to advocate for you in your absence, they're probably not the right attorney for you.
What sets Fair Cadora apart from other divorce law firms in the San Diego area is their extensive experience in family law, with over 50 years of combined experience. Attorney Kevin L. Cadora has personally handled hundreds of high-conflict divorce cases, giving him an intimate understanding of the nuances and complexities involved in these types of cases. Attorney Lauren M. Fair is a Board Certified Family Law Specialist, which means that she has been recognized as a legal expert in the field of family law. This designation is only granted to attorneys who have demonstrated a high level of expertise and experience in this area of law.
The divorce attorneys at Fair Cadora are committed to fighting tirelessly to protect your rights and interests, and they will work hard to uncover the truth of your situation. However, they also understand that sometimes settlement may be the best option for their clients, and they will strive to reach a solution that is fair and equitable.
California Divorce Options
In the state of California you have several divorce options and our San Diego divorce attorneys will work with you to determine which divorce options make the most sense for your unique situation. Here's the different divorce options available to you in California:
Uncontested Divorce — An uncontested divorce is when both spouses agree on all of the terms of the divorce, including property division, child custody, and support. This type of divorce is typically less expensive and quicker than a contested divorce.
Contested Divorce — A contested divorce is when the spouses cannot agree on the terms of the divorce and must go to court to have a judge decide the issues. This type of divorce can be more time-consuming and expensive than an uncontested divorce.
Mediation — Mediation is a process where a neutral third party, known as a mediator, helps the spouses negotiate and reach an agreement on the terms of the divorce. Mediation can be less adversarial than a contested divorce and can help the parties maintain control over the outcome.
Collaborative Divorce — A collaborative divorce is when the spouses and their attorneys agree to work together outside of court to reach a settlement. This process can be more amicable and can help the parties maintain a cooperative relationship after the divorce.
Legal Separation — A legal separation is when the spouses live separately but remain legally married. This option can be chosen for religious, financial or other personal reasons, and can be converted into a divorce later on.
Summary Dissolution — A summary dissolution is a simplified divorce process available to couples who meet specific eligibility requirements, such as having been married for less than 5 years and not having children together. This option can be faster and less expensive than a regular divorce, but not all couples qualify for it.
Schedule a Consultation with One of Our Expert San Diego Divorce Attorneys
At Fair Cadora we understand just how overwhelming the divorce process can be. Our divorce attorneys are experienced in handling divorce cases in San Diego. We like for our potential new clients to get to know us and get a feel for our practice, so they can feel confident with our representation. If you're facing the divorce process and not sure where to start, contact one of our experienced San Diego divorce attorneys to schedule a consultation.